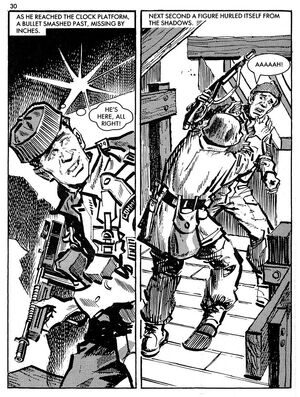 Gordon Checkley Livingstone was born in Dundee in 1934. He did National Service in Germany in the early 1950s, and became a staff artist at DC Thomson, starting off drawing for girls' comics and magazines like Secrets. In 1961 editor Chick Checkley, whose mother was Livingstone's godmother, launched Commando, a 68-page war story digest comic, to compete with Fleetway's War Picture Library and Air Ace Picture Library, and Livingstone was one of the artists he recruited to work on it. His first story was "Mercy For None" in issue 4. He went on to draw over 360 issues of the title, developing a style based on thick, slashing brushstrokes reminiscent of Eric Parker, combined with fine, choppy pen lines and blocks of letratone. He also drew "The Falklands File" in Warlord. He retired in 1999. His Commando issues are still regularly reprinted.
References
Edit
Community content is available under
CC-BY-SA
unless otherwise noted.