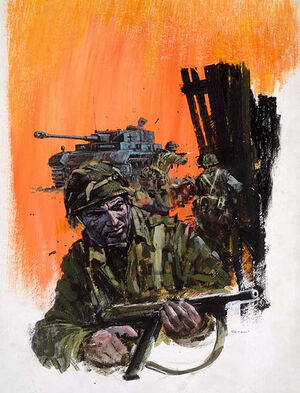 Graham Coton was born in Woolwich, London, on 1 November 1926. He was educated at Shooter's Hill School and Goldsmith's School of Art, and served in the RAF in 1944. After the war he completed his education and began freelancing for the Amalgamated Press, starting with "Kit Carson" for Cowboy Comics Library, "Gulliver", "Dick Turpin" and "The Three Musketeers" for Thriller Picture Library, and illustrations for Super Detective Library. He also drew "Sexton Blake" (1951-52), "Swiss Family Rollinson" (1953), and "Captain Phantom" (1953, later renamed "Spy 13") for Knock-Out, "SAS" (1959-61) for Express Weekly, "Specialists in Speed" (1960) and "Road Race Roughriders" (1961) for Tiger, "Cars A-Z" (1963-64) for Valiant, "Fireball XL5" (1965) for TV Century 21, and war strips for Top Spot. He specialised in machinery and vehicles. He painted numerous covers for War Picture Library and Air Ace Picture Library until 1984, first using watercolour washes, later heavy impasto oils. He was a prolific illustrator for books, magazines (including Look and Learn) and Royal Doulton commemorative plates, and painted on commission. He died on 14 October 2003 in East Sussex.
References
Edit
Online reference
Edit
Community content is available under
CC-BY-SA
unless otherwise noted.