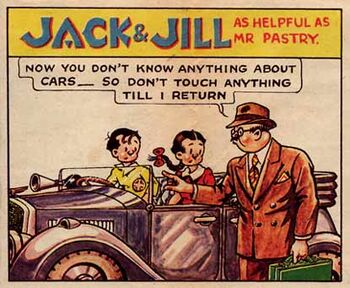 Henry Matthew Talintyre was born in Gateshead in the second quarter of 1893, the son of George Douglas Talintyre, a watchmaker, and his wife Henrietta. In 1911 he was seventeen, living in Newcastle with his sister Emeline Mary Bell and her family, and working as a ticket and poster writer.
He married Gladys Gould in Paddington, London, in the fourth quarter of 1926. In 1929 he took over drawing "Uncle Oojah" in The Daily Sketch, written by Flo Lancaster, following the death of the strip's original artist Thomas Maybank. He also drew for TV Comic ("Jack and Jill", 1951), Playhour Pictures (1954) and Jack and Jill ("The Wonderful Adventures of Jerry, Don and Snooker", 1954-58).
He died in Chichester, Sussex, in the second quarter of 1962.
References
[
]
Alan Clark, Dictionary of British Comic Artists, Writers and Editors, The British Library, 1998, pp. 160-161
Denis Gifford, Encyclopedia of Comic Characters, Longman, 1987, p. 234
Online reference
[
]