Jurassic World: Dominion Dominates Fandom Wikis - The Loop
Play Sound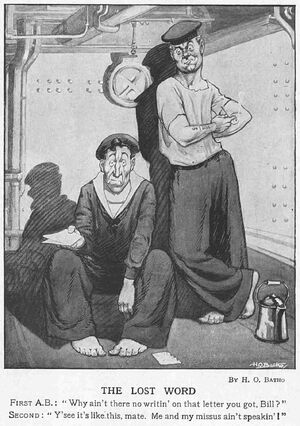 Harold Outram Batho was born in Wakefield, Yorkshire, in the last quarter of 1888, the son of Arthur John Batho, a telegraph clerk in the civil service, and his wife Lilian, née Outram. His father died in Graaff-Reinet, South Africa, in 1891, where he was unsuccessfully seeking treatment for tuberculosis. The family returned to live in Sheffield by 1901.
By 1909 Harold was contributing cartoons to The Plebs, the journal of the Plebs' League, a socialist organisation for workers' education, and by 1911 he was an art student at Sheffield School of Art, living with his widowed mother, brother and uncle in Eccleshall. He served in the Loyal North Lancashire Regiment and the 13th London Regiment during the First World War, being appointed Second Lieutenant in 1916. He was wounded twice, and was invalided out after being exposed in the trenches on the Somme. He resigned his commission on the grounds of "ill-health contracted on active service" on 15 September 1917, and was granted the honorary rank of lieutenant, but suffered long and painful illness.
He was working as a cartoonist for the Sheffield Sunday News in 1920. His sister Winifred, a suffragette who once disrupted a speech by Winston Churchill, a co-founder of the Communist Party of Great Britain, and a left-wing journalist, married (and later divorced) the cartoonist, socialist activist and editor of The Plebs, J. F. Horrabin. Batho assisted Horrabin on his strips The Adventures of the Noah Family (Daily News, 1919-) and Dot and Carrie (The Star, 1922-), apparently as a writer, presumably having followed the Horrabins to London. He drew for Pip and Squeak, the children's supplement to the Daily Mirror, in 1921-25.
He drew the daily strip Bunty and her Bus, about a spoiled flapper who is given a car for her birthday and her friends and family, in the Nottingham Journal beginning in July 1924. Bunty is an unusually sophisticated strip for the time, framed and staged almost cinematically and drawn in a semi-realistic style. The strip ended in February 1925 and was replaced by Father and the Family, a more traditional and evidently less demanding strip, more reliant on corny gags, which Batho drew in a looser style. It ran until October 1928.
He died as a result of his wartime illness in Blycourt Manor, Staplehurst, Kent, on 2 January 1932, aged only 43, leaving his effects (£92 5s. 10d.) to Winifred Horrabin.
References
[
]
"Artist's Death", Sheffield Independent, 5 January 1932, p. 7
"Military Demonstration in Sheffield", Sheffield Daily Telegraph, 14 June 1915
Amanda L. Capern, "Horrabin , Winifred (1887–1971)", Oxford Dictionary of National Biography, Oxford University Press, 2004, accessed 7 April 2013
Alan Clark, Dictionary of British Comic Artists, Writers and Editors, The British Library, 1998, p. 10
William W. Craik, The Central Labour College, 1909-29, Lawrence & Wishart, 1964, p. 102
Denis Gifford, The History of the British Newspaper Comic Strip, Shire Publications, 1971, p. 4
Claude Moliterni and Mircea Arapu, Histoire mondiale de la bande dessinée, P. Horay, 1989, p. 144
Winifred Batho and Frank Horrabin at Spartacus Educational
J. F. Horrabin and Winifred Horrabin on Wikipedia
Bio at Scoop! (subscription required)
The Plebs Vol 24 at Google Books Snippet View