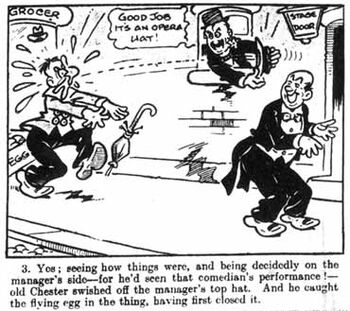 Henry Albert "Harry" Parlett was born in Croydon, Surrey, on 9 November 1881. His father, Tom Parlett, was a comic postcard artist, and Harry's first artistic work, among periods working as an electrician and, it is said, as a docker, was also in comic postcards.
His first work in comics was "Inspector Spot" for Butterfly in 1910. He also drew "Dicky Doenut" (1915), "Obadiah Priceless" (1919), "Tilly, Tom and Tinker Topnote" (1919) and "Marmaduke Marzipan" (1919) for the same title. He also drew "Gabbem and Pinch" (1915) and "Tommy Dodd" (1916) for Firefly, "Jumbo the Joker" (1919) for Chuckles, and "Ned the Navvy" (1919) for Funny Wonder.
From 1920 he was a regular contributor to Film Fun (including "Larry Semon", 1920; "Slim Summerville", 1920; "James Aubrey", 1920; "Buster Keaton", 1929; Frank Randle, 1947) and Kinema Comic ("Jackie Cooper", 1920; "Chester Conklin", 1920, "Buster Keaton", 1923; "Baby Marie Osborne", 1923; "Slim Summerville", 1926; "Monty Banks", 1926). He was also well-known for ghosting in other artists' styles.
His two sons, Reg and George, starting working in comics professionally in the 1920s, and Harry occasionally ghosted for them. Other strips he drew included "George Robey" (1921), "Robert and Rupert" (1926), "Percy Petrol" (1931) for Merry and Bright; "Screen Struck Samuel" (1925) and "Sunny Daisy" (1926) for Butterfly; "Percy Go-Bang" (1936), "Little Lulu" (1936), "Clarabelle's Classroom" (1937) and "Wally the Woolly Cowboy" (1938) for Mickey Mouse Weekly; and "Little Elf and his Magic Tomahawk" (1940, taking over from his son George) and "Ronnie Roy the India Rubber Boy" (1940-50) for Funny Wonder
In the late 1940s he drew for short-run comics from the small publisher Philimar, including: "Sam and Stan" (1948) for Glee Comic, "Kid Kaput" (1948) for Mirth Comic, and "Monty the Midget Mountie" (1948) for Jolly Jester. He retired in 1950 or '51, and died in Thanet, Kent, on 1 February 1971.
References
Alan Clark, Dictionary of British Comic Artists, Writers and Editors, The British Library, 1998, pp. 128
Harry Parlett stripography at DanDare.info]
Online reference