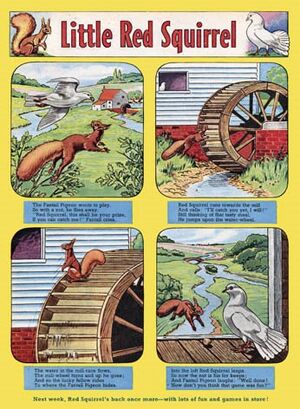 Henry A. Pettit was born in West Ham, London, in August 1913, son of Henry William Pettit and his wife Ruth Augusta, née Harwood. At the age of nineteen he lost a leg when he jumped from a moving train, slipped on ice and fell under the wheels. He studied at St Martin's School of Art and, after a time working in advertising, became a freelance illustrator and painter, specialising in wildlife, especially birds. He was a member of the Royal Society of Watercolour Artists and also painted in oils. He married Grace Tingley in 1939. They settled in Spring Valley Mill in Ardleigh, Essex and restored as a working mill.
In the mid-1950s Pettit contributed comic strips to Playhour and Jack and Jill annuals, and illustrations, often in scraperboard, to Eagle, Swift and Girl annuals. From 1955 to 1958 he worked for Playhour, producing "Jungle Days and Woodland Ways" (1955), "The Little Friends of Francis Pitt" (1955-56), "Little Red Squirrel" (1956-58) "Dogs" (1958), "Friends of Little Red Squirrel" (1958) and "All About Cats with Peter and Pam" (1958) in colour on the back page. His wife, Grace, also worked for Playhour, writing replies to children's letters.
Spring Valley Mill was used as the setting of Children's Film Foundation film, Treasure at the Mill, in 1957, which starred Pettit, Grace, and their three children, Merrilyn (13), Hilary (12) and Harry (7). A novelisation by Malcolm Saville, illustrated by Pettit, was published the same year.
Suffering from ill-health, Pettit died in August 1958, aged only 45. His granddaughter, Eleanor Boorman, is a well-known portrait painter.
Alan Clark, Dictionary of British Comic Artists, Writers and Editors, The British Library, 1998, p. 135
Steve Holland, Harry Pettit, Bear Alley, 26 August 2008
Community content is available under
CC-BY-SA
unless otherwise noted.