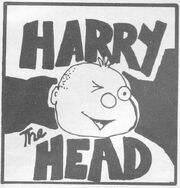 Strip by Marc Riley which appeared in the 1980s comic Oink!.
Despite being only a head, Harry is otherwise a fun-loving teenager who gets into scrapes with his perfectly ordinary best friend, Barney. Sometimes Harry's adventures involved straight pranks of the sort that only a disembodied head can really pull off, while others depicted some of the disadvantages of only being a head. When the strip was afforded a full page for a story, it would generally revolve around Harry and Barn pooling their talents to right some wrong.
The strip defied its apparently limited premise to become one of the most-featured Oink! strips, with appearances in 67 out of the comic's 68 regular editions, as well as all the annuals and holiday specials.