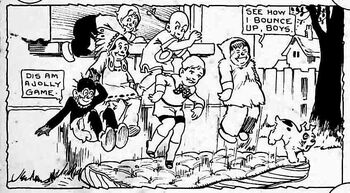 Herbert Sydney Foxwell was born in Camberwell, London, on 20 April 1890, and grew up in Eltham. Before the First World War he studied fine art at Addey and Stanhope College of Science, Art and Tecnology, after which his father, a journalist, got him an interview at the Amalgamated Press. His earliest strip work included "Jumbo and Jim" (1912) for The Penny Wonder, and "Artie Artichoke" (1913) for The Favourite Comic.
He took over "The Bruin Boys" from Julius Stafford Baker for The Rainbow in 1914, and it was Tiger Tim, the lead character of this strip, which was to make his name. By the late 1920s Tiger Tim appeared in The Rainbow, Playbox and Tiger Tim's Weekly as well as various annuals.
In 1915 he drew one of the earliest British newspaper strips, Helpful Horace in the Sunday Pictorial, the weekly sister paper of the Daily Mirror.
In the weekly comics he also drew "The Dolliwogs' Dolls' House" (1914-) and "Sam the Skipper" for The Rainbow, "Pinky and Patsy" (1919-) and "The Tiny Toy Boys" (1920-) for Tiger Tim's Weekly, "The Bunty Boys" (1921-) Bubbles, and "The Hippo Girls" (1925-) and "Chummy Boys" (1930-) for Playbox. He excelled at comic animals and was one of the few artists the AP allowed to sign his work.
He left the AP in 1933, taking over Teddy Tail in the Daily Mail from Harry Folkard, which he drew until 1941, and drawing for Jolly Jack's Weekly, a comic supplement of the Sunday Dispatch.
He was an army reservist, and was called up to the Royal Army Service Corps at the outbreak of the Second World War, serving as a captain at Aldershot, where he died, of natural causes, in the fourth quarter of 1943.
References
[
]
Alan Clark, Dictionary of British Comic Artists, Writers and Editors, The British Library, 1998, pp. 60-61
Denis Gifford, Encyclopedia of Comic Characters, Longman, 1987
Denis Gifford, The history of the British Newspaper Comic Strips, Shire Publications Ltd, 1971
Online reference
[
]