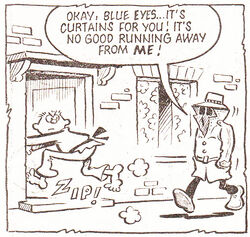 "Hit Kid" was a strip created and drawn by Sid Burgon that originated in Krazy comic in 1977 before migrating to Whizzer and Chips where it was also drawn by Tom Williams. Burgon's strips were also published in Nipper comic in 1987.[1]
In his first appearance in Krazy, issue 26 (publishing date 9 April 1977), Hit Kid appeared to be a pint-sized adolescent, but was afterwards drawn as a much taller teenager.
Dressed in a thick overcoat, fedora hat and sunglasses, Hit Kid, whose face could not be seen, was a juvenile hit man. Boasting such adorable catchphrases as "Okay, blue eyes... it's curtains for you", he was hired by the children of the neighbourhood to take on bullies, mean adults and other such troublemakers in exchange for a small fee — such as sweets, ice-cream or a bar of chocolate.
Hit Kid dealt with his targets using water pistols, stink bombs, hitching powder and other such juvenile devices and methods. But even so, this looks like another candidate for the "they wouldn't get away with that these days" pile.
Having fulfilled his "contract" by humiliating and embarrassing his target, Hit Kid would receive his payment with the words "Any time... any place... anyone!" Sometimes he was more relaxed, exchanging puns and jokes with the kids who had hired him as they gloated over the defeated bully.
Hit Kid was one of a number of old IPC characters who appeared in The Cor!! Buster Humour Special, published by Rebellion in April 2019. Written by Robin Etherington and drawn by David Follett, Hit Kid's overcoat was replaced with an anorak but he was still shown taking on "contracts" against bullies.
References
Edit
Community content is available under
CC-BY-SA
unless otherwise noted.