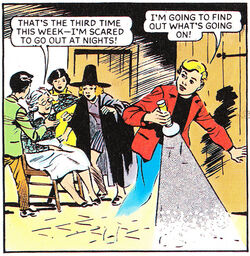 "Invisible Dick" is a story which appeared in The Rover, The Dandy, Sparky and Comic Review. Each incarnation is distinct, although in all four the main character is a boy who can become invisible.
The Rover version of "Invisible Dick" was a text serial originally appearing in 1922; the character was revived for a Dandy strip that ran from 1937 to 1939, drawn by George Ramsbottom. In both, Dick turned invisible using liquid from a mysterious Egyptian bottle given to him by a peg-legged sailor.[1]
The Sparky version of the strip ran from 1968 to 1977. Dick's origin was tweaked for this revival: now, he got his powers from a torch taken from a space capsule by Dick's astronaut father; somehow, being in space had given the torch strange properties.[2]
In 2014 the strip was revived for the digital magazine Comic Review. Written by Gary Chudleigh and drawn by Graeme Kennedy, this version is titled simply "Invisible".[3]
References
[
]