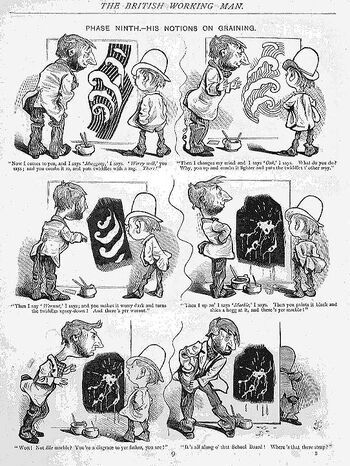 James Frank Sullivan was born on 31 October 1852 at Great Ormond Street, London, the son of printer and stationer James Sullivan and his wife Harriett, née Crosbie. He studied at the National Art Training School in South Kensington, where he learned to draw the figure from classical sculpture, and then took a studio, where he drew live models.
At the age of 18 he was invited to contribute to the comic journal Fun, a cheaper, liberal rival to Punch. He became the magazine's leading cartoonist, and pioneered the strip cartoon, including a series of cartoons entitled "The British Working-Man", which started in 1875 and ran untilo 1901, satirising tradesmen, retailers and their customers, commuters, industrialists, landowners, journalists and politicians. He advocated the presence of women in parliament, was sceptical of British imperialism, and deplored what he called "grandmotherly government", today known as the "nanny state".
He also drew for Black-and-White, Cassell's, Pearson's, Pick-Me-Up, The Strand Magazine (a feature called "The Queer Side of Things"), Tom Hood's Comic Annual, and, for two brief periods in 1893 and 1905, Punch. He illustrated Marie Corelli's novels The Sorrows of Satan (1895) and Belial's Burdens (1896), and wrote and illustrated books for children.
He retired in 1904, settling in Chertsey and pursuing interests including metalwork, illuminated manuscripts, wood-carving and heraldry. He died there on 5 May 1936, aged 83, survived by his wife Agnes, née Mullett, whom he had married in 1877.
References
[
]
John Jensen, "Sullivan, James Frank (1852–1936)", Oxford Dictionary of National Biography, Oxford University Press, 2004, accessed 8 July 2013
J. F. Sullivan at Alphabet of Illustrators
Online reference
[
]