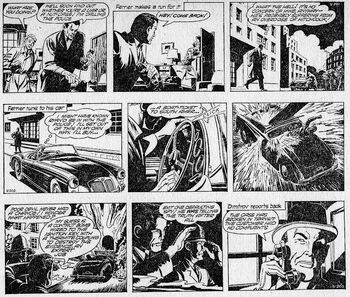 John Phythian "Jack" Monk was born in Bolton, Lancashire, on 23 February 1904, the son of Harold Monk, a frame overlooker in a cotton mill, and his wife, Margaret Smart Monk.[1] He went to art school in Bolton and started out as a sports cartoonist for the Bolton Evening News, later working for the Evening Chronicle.
In 1934 he created two comic strips for the Daily Express, Can You Beat It? and The Funny Side of Northern Towns. He moved to the Daily Mirror in 1936 where he and writer Don Freeman started a comic strip based on Edgar Wallace's Terror Keep, which was soon dropped for copyright reasons. He and Freeman then created private detective strip Buck Ryan, which ran from 1937 to 1962.
After that he moved into weekly comics, drawing strips including "Commander Cockle" (1962) for Lion, "Inspector Jellicoe" (1963) for Hornet, "Wee Tusky" (1965) for Sparky, and "Million Pound Mutt" (1973) for Debbie. He died in Surrey in the fourth quarter of 1976.
Footnotes
Edit
↑

Clark and Lambiek both give his birth year as 1904. Lambiek gives his full name as "Jack Asthian Monk", and says he studied art in Bolton. There's a John Phythian Monk, born 1904 in Bolton and living in Bolton, in the 1911 census. "Asthian" and "Phythian" are highly unusual names and only differ by the first two or three letters, so I reasoned one was probably a mistranscription of the other. The name on the census image is definitely "Phythian", and birth and death records exist for John Phythian, but not for John or Jack Asthian. --PB
References
Edit
Alan Clark, Dictionary of British Comic Artists, Writers and Editors, The British Library, 1998, p. 113
Online reference
Edit
Community content is available under
CC-BY-SA
unless otherwise noted.