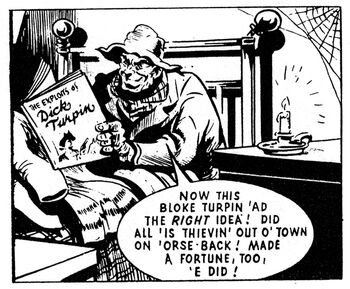 John Albert "Jack" Pamby was born in Hitchin, Herfordshire, on 31 May 1908,[1] the son of Ernest John Pamby, a police constable, and his wife Edith Evelyn, née Starr. By 1911 the family was living in West Ham, London. Jack joined the staff of the Amalgamated Press in the 1920s, and from the '30s drew adventure strips for the firm's weeklies. Strips he worked on included "Cyril and Cecil" (1930), "Uncle Ebony" (1930), "The Lost City" (1932), "The Magic Box" (1933), "The Lucky Stone" (1934) and "The Emerald Arrow" (1934) for My Favourite.
He ghosted for other artists on Film Fun and was involved in colouring. He became art editor on Stan J. Gooch's comics, and while in this position he drew "Singapore Jim and Billy" (1937-39) and "The Adventures of Jerry, Jenny and Joe" (1937-38) for Tip Top, and "The Adventures of Bob and Betty Britten" (1937) for Crackers.
He married Margaret Brace in Hertford in 1942. After the Second World War the AP's output was reduced by paper shortages, so he did some outside work with a small publisher, Philmar, which included "Willing Wilf" (1948) for Cheery Time Comic, "Steve and his Stockwhip" (1949) for The Glee Comic, and "Cautious Claude" (1948) for The Mirth Comic. He retired early from his staff position some time in the 1960s, but appears to have continued working on a freelance basis into the 70s. His last strips were for Buster, including "Charlie Peace" (1965-74) and "The Mighty Misfits" (1965-67), and Valiant, for which he drew "The Potters of Poole Street" (1975).
He apparently owned a small farm in Kent, but died in the third quarter of 1977 in East Ham, London.
Footnotes
[
]
↑

Dates, parentage and marriage based on most likely identification.
References
[
]
Alan Clark, Dictionary of British Comic Artists, Writers and Editors, The British Library, 1998, p. 124
Dennis Gifford, Encyclopedia of Comic Characters, Longman, 1987
Online reference
[
]