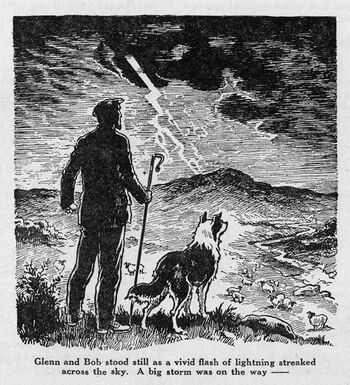 John James "Jack" Prout was born on 14 December 1899 in Mexico, son of a British telephone engineer. The family later returned to England and settled in Cornwall. He joined D. C. Thomson as a staff artist in the 1920s, starting on newspapeds like The Weekly News and The Sunday Post. He illustrated prose stories in the early years of The Beano and The Dandy. Comic strips he drew included the last nine episodes of the first series of "The Shipwrecked Circus" in The Beano in 1943, "Tin Lizzie" in The Dandy in 1954 and 1957-58, and "Young Robinson Crusoe" in Bimbo in 1962-70. He was most associated with "Black Bob", which started as a prose serial in The Dandy in 1944, and became a half-page comic strip in The Weekly News from 1946 to 1967. These strips were later reprinted in The Dandy and in eight Black Bob Annuals between 1950 and 1965. He died in Penzance, Cornwall, in the third quarter of 1978.
References
Edit
Alan Clark, Dictionary of British Comic Artists, Writers and Editors, The British Library, 1998, pp. 139-140
Ray Moore, "One Man and his Dog", The Sloperian #1
Dennis Gifford, Encyclopedia of Comic Characters, Longman, 1987
Community content is available under
CC-BY-SA
unless otherwise noted.