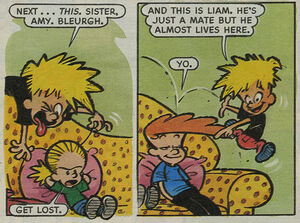 "Jak" (also "Jak and Spike" and "Jak and Todd") was a strip which ran in The Dandy. It first appeared in issue 2924 (dated December 6 1997).
The main character is one of many naughty boys in British comics, albeit one who has been updated to suit turn-of-the-twenty-first-century tastes. In his original guise Jak showed the clear stylistic influence of Bill Watterson's Calvin and Hobbes, boasted a line of smartmouthed put-downs to go alongside his more traditional physical pranks and enjoyed watching The X-Files. At this point, Jak's supporting cast consisted of his parents, his little sister Amy and his friend Liam.
The strip was later taken over by David Sutherland. Jak now looked like a blond version of Dennis the Menace, and even got his own Gnasher in the shape of a rather vicious cat called Spike. Jak's parents were completely redesigned in the process.[1] This incarnation of the strip eventually took on the name "Jak and Spike", furthering the impression that the characters were the Dandy versions of Dennis and Gnasher.
When The Dandy was given an overhaul in 2004, Jak was promoted to one of its most prominent characters; he often dislodged Desperate Dan as cover star. The strip was now drawn by Wayne Thompson, who went with a sort of anime-cum-Genndy Tartakovsky aesthetic, while Jak's underpants were now visible above his low-lung trousers in deference to the fashion of the era. The supporting cast was rejigged: Spike was gone, little sister Amy was replaced with teenage sister Mandy, and Jak's best friend was no longer Liam but a black boy named Todd; the strip was eventually retitled "Jak and Todd" to emphasise Todd's role in the double act. The strip also included various cartoon animals whom Jak watched on television.
"Jak and Todd" disappeared from view when The Dandy received its Harry Hill-endorsed makeover in 2010, but the strip made a comeback for the final print issue.
References
Edit