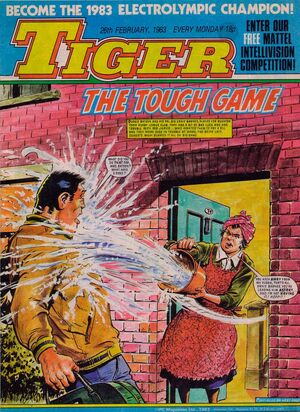 James Bleach started drawing comics in the 1950s when he set up a studio with Ron Embleton and Terry Patrick. He worked for Scion, World Distributors, and Mick Anglo's Gower Studios, including working on various Marvelman titles. Other strips he worked on include "The Frogman" (1952) for Gallant Adventure Comic, "Past or Future" (1953) for Gallant Science Comic, "The Bridger" (1953) for Gallant Western Comic, "Tobor the Great" (1954) for Star Comic, and "African Manhunt" (1955) for Tarzan Adventures. From 1962 to 1970 he drew "John Jones" for The Hotspur.
Other strips he drew include "The Inquisitors" (1968), "Tallon of the Track" (1973-75) and "File of Fame" (1978-) for Tiger; "MacTavish and O'Toole" (1969-) in Jag (later in Tiger); "Charlie Champ's War" (1972, comic unknown); "Rod and Line" (1974, comic unknown). In the 80s he drew "The Tough Game" (1982-85) for Tiger, "Alf Tupper, the Tough of the Track" and "Gladiators of the Desert" for The Victor, and "Action Force" for Battle
References
Edit
Online reference
Edit
Community content is available under
CC-BY-SA
unless otherwise noted.