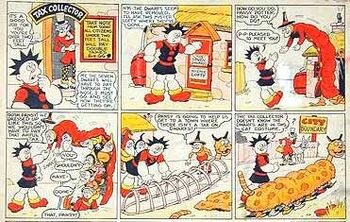 James Clark was born in Glasgow in 1895, and joined the publishing firm of John Leng as an illustrator in 1919. He initially worked on titles for adults, but soon switched to children's work. He drew the adventures of Willie Waddle, a cartoon duck, for a variety of publications, including about twenty annuals, between 1928 and 1953, and illustrated the hardback Three Men in a Tub in 1940. He also worked for DC Thomson, including "Jimmy and his Grockle" in The Dandy from its first issue. Other strips he drew in The Dandy included "Centipede Pete" (1941), "King of the Jungle" (1943), "Young Dandy" (1950s), "The Castaway Kydds" (1950s) and "Dockland Davie" (1960). He also drew "Leave it to Lop Ears" (1939) in The Magic Comic, "The Invisible Giant" (1949) and "Pansy Potter, the Strongman's Daughter" (1949-1955, taking over from Basil Blackaller) for The Beano, "Tiny Tim" (1953) for The Topper, and the daily strip Towser in The People's Journal (1944-1947). He retired in 1961, and died on 10 July 1977.
References
Edit
Alan Clark, Dictionary of British Comic Artists, Writers and Editors, The British Library, 1998, p. 40
Online reference
Edit
Community content is available under
CC-BY-SA
unless otherwise noted.