Jurassic World: Dominion Dominates Fandom Wikis - The Loop
Play Sound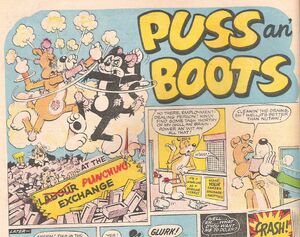 John Keith Geering was born in Warrington, Lancashire, on 9 March 1941. He displayed a talent for art at school, but after he left at 16, his first job was as a junior clerk in a solicitor's office, where he met his future wife, Barbara Finn. They married in 1961 and had a daughter before adopting two sons.
He had an urge to perform, and after a period in amateur dramatics he became a professional actor, playing supporting roles in Coronation Street and a TV adaptation of War and Peace. He managed a night club in Warrington for a while, and, after meeting Ken Dodd, found himself designing costumes for his Diddy Men.
Barbara, who wanted her husband to make more of his artistic abilities, bought a copy of every comic she could find and wrote to the publishers enclosing some of John's cartoons. Ian Chisholm, an editor at DC Thomson, made an appointment with him, they hit it off, and Chisholm offered him work - his first strip being "Puss and Boots" for Sparky in 1969-77.
Other strips he created include "The Nutters" (1975-76) for Cracker; "Antchester United" (1977-79) for Plug; "Bananaman" (1980-85), "The Slobbs and the Snobbs" (1980-85) for Nutty, and "Smudge" (1980-94) for The Beano, for which he wrote the scripts as well as drawing. Strips he drew, and may have written, at DC Thomson include "The Badd Lads", "Tommy Taylor's Toybox", "Number 13" (1987-97), "Dean's Dino" (1999) and "Camp Cosmos" (1999) for The Beano, "Paw, Maw and Porky" (1986-90), "Beefy Dan the Fast Food Man" (1984-86) and "Twitt Hall" (1987-88) for The Beezer, "Neighbourhood Wood" (1987-), "Desperate Dan" (1994-97) and "George and the Dragon" (1999) for The Dandy. He also drew for IPC, including "Gums" for Buster, and "Why, Dad, Why?" (1978-80) for Cheeky Weekly.
He died in Northwich, Cheshire, on 20 July 1999.
References
[
]
Alan Clark, Dictionary of British Comic Artists, Writers and Editors, The British Library, 1998, p. 63
Denis Gifford, Encyclopedia of Comic Characters, Longman, 1987
Denis Gifford, Obituary: John K. Geering, The Independent, 19 August 1999
Online reference
[
]