Jurassic World: Dominion Dominates Fandom Wikis - The Loop
Play Sound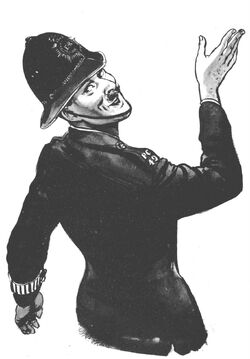 John Godfrey Bernard Worsley was born in Liverpool on 16 February 1919, the son of a naval officer, and grew up on a coffee farm in Kenya where his father settled. He was sent to St Winifred's Boarding School, and won a scholarship to Brighton College, and then spent three years at Goldsmiths School of Art in London. After graduating he moved to the south coast of England and worked as a freelance magazine illustrator.
He joined the Navy in 1939, and became the youngest official war artist in the Mediterranean. He survived the sinking of HMS Laurentic in 1949, and took part in landings at Sicily, Reggio and Salermo. He was captured during a rescue mission at Lussin Piccola in the north Adriatic, and spent almost two months in solitary confinement before being sent the Marlag O prisoner of war camp.
He created a dummy sailor, nicknamed Albert RN, out of wire and paper mâché, which was held between two prisoners during roll call to cover for another prisoner's escape. The prisoner, a Lieutenant Mewes, successfully escaped but was recaptured four days later. The ruse was discovered during a second escape attempt two months later. The journalist Guy Morgan, when he was repatriated with serious wounds, smuggled out drawings by Worsley in a plaster cast on his arm. Morgan later wrote a play, Albert RN, which was filmed in 1953 starring Anthony Steel. Worsley recreated the dummy for the film.
Returning to civilian life, he set up a small studio in Barons Court, west London. He was commissioned to paint portraits of high ranking officers for the Admiralty. When the Eagle launched in 1950, he found work drawing the advertising strip "Tommy Walls", and the following year took over PC 49 from Strom Gould. He drew the strip until 1957. He also drew "The Story of Miriam" (1951-52) and "Belle of the Ballet (1952-54) for Girl, and "Wee Willie Winkie" (1963-67) for Twinkle.
Outside of comics, he painted scenes of life on the oilfields of Iraq and America for Esso, illustrated readings of children's stories for ITV, many of which were published as books, and worked as a police sketch artist. Many of his paintings can be seen in the Imperial War Museum and the National Maritime Museum. He continued working into his late 70s, on marine paintings, sculpture and glass engraving. His war sketches were published as John Worsley's War, published in 1993. He died in Wandsworth, London, on 3 October 2000.
References
[
]
Alan Clarke, Dictionary of British Comic Artists, Writers and Editors, The British Library, 1998, p. 193
Steve Holland, Obituary: John Worsley, The Guardian, 13 October 2000
Steve Holland, John Worsley, Bear Alley, 19 March 2009
Online reference
[
]