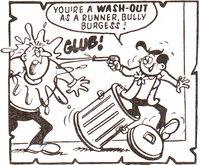 Not to be confused with The Joker, an AP comic published from 1927 to 1940
"Joker" was a strip that first appeared in Knockout in 1971, before moving to Whizzer and Chips and finally to Buster. The main character was used as the cover star for the first two titles along the way. The strip was drawn by Sid Burgon and written by Malcolm Morrison.[1]
Not to be confused with Batman's archenemy, Joker was a cheeky lad who loved playing practical jokes. Sometimes his victims were bullies who got their just desserts; sometimes they were just hapless fall guys. A regular target was Joker's history teacher, Miss Honey Potts.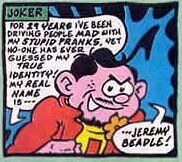 In the very last issue of Buster, it was revealed that Joker was, in actual fact, Jeremy Beadle.
References
[
]