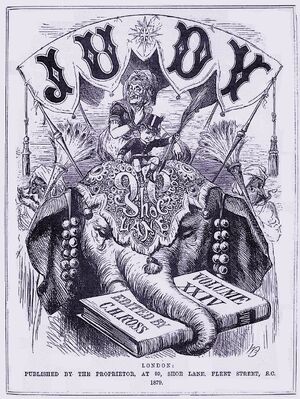 Not to be confused with the DC Thomson weekly Judy (1960-1991)
Judy, or the London Serio-Comic Journal was a weekly comic paper launched in 1867 as a downmarket competitor to Punch, edited by C. H. Ross. Its politics were on the right ("Conservatism of the Truest and Bluest"), and it featured illustrated comic skits, satirical political sketches, light verse and caricatures, some drawn by Ross himself.
Ross's creation "Ally Sloper" first appeared in Judy in 1867. From 1869 it was drawn by Ross's wife Emilie de Tessier, and featured the first serial comic strip, depicting Sloper's adventures as the paper's war correspondent.
The paper was bought by Dalziel Brothers in 1872. Editor Gilbert Dalziel bought it out from the company in 1888, but was later forced to sell it on. It finally closed in 1910.
References
[
]
Laurel Brake and Marysa Demoor, Dictionary of 19th Century Journalism, Academia Press, 2009, pp. 327-328