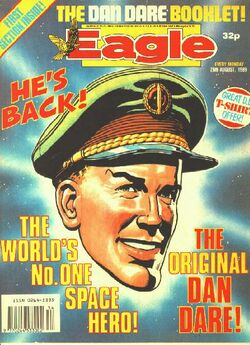 Keith Watson (1 February 1935 – 9 April 1994) was born in Ormesby, Middlesbrough. He was a fan of the Eagle and Dan Dare when it first launched, and sent an application to work on the comic in the form of a spoof front cover. Despite having no formal art training, he joined Frank Hampson's studio in 1958, but after the studio was disbanded in 1959 he moved to Lion to draw "Captain Condor". In 1962 he returned as the sole artist on Dan Dare, now in black and white on the interior pages, written by David Motton. Watson and Motton restored most of the elements of Hampson's version that had been changed under Frank Bellamy and his successors, and the strip was popular enough to be restored to colour and the front page, but their final storyline in 1966-67 was reduced to a single page, albeit in colour. It ended with Dan being appointed Commander of Space Fleet, and was the last original Dan Dare story published in the original Eagle: for the next two years, until it merged into Lion, it ran reprints.
From the late 1960s Watson drew "The Space Girls" for Tina, "Sky Shark" for The Topper, and "Captain Scarlet and the Mysterons" and "Joe 90" for TV21. In the late 1970s he took over the Dutch football comic Roel Dijkstra.
In 1989, he revived the original Dan Dare for the new Eagle (which until then had been publishing tales of a descendent), and drew for Thunderbirds: the Comic in the early 1990s. He died from cancer aged 59. His last work, the opening page of "The Phoenix Mission", was published posthumously in Spaceship Away in 2003.
External links
[
]
References
[
]
Online reference
[
]