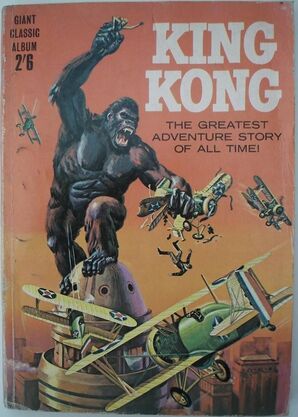 King Kong - Giant Classic Album was a reprint of the earlier 1968 Gold Key comic, published in the UK in 1970, by Top Sellers (an imprint of Thorpe & Porter).
The comic strip
Edit
The original Gold Key comic, based on the 1932 novelization by Delos W. Lovelace (as opposed to the script of the 1933 RKO film) was written by Gary Poole and illustrated by Alberto Giolitti (there is some debate as to the involvement of Giolitti's friend and fellow studio artist, Giovanni Ticci). The painted cover was provided by George Wilson.
Various editions
Edit
As well as the original 1968 Gold Key comic, and this 1970, square bound UK reprint, the strip has also been republished as a treasury sized edition (by Whitman, again in the USA) and in various international versions (including Germany and Norway). It was reprinted again in the UK in 1976, as a tie in to the remake of King Kong, produced by Dino De Laurentiis and directed by John Guillermin.
Community content is available under
CC-BY-SA
unless otherwise noted.