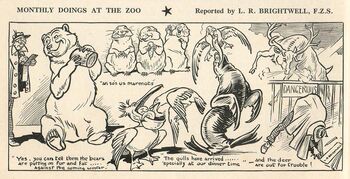 Leonard Robert Brightwell was born in Wansworth, London, on 17 May 1889 and studied at the Lambeth School of Art. He was a keen nature artist from an early age, he became a fellow of the Zoological Society of London in 1906, a member of the Marine Biological Association in 1922. He had cartoons published in Punch from the age of 16, and became a prolific illustrator for books (many of which he also wrote) and magazines, mainly on animal themes. His comics work included "Monthly Doings at the Zoo" for the Boys' Own Paper, "Effie the Elephant" for The Boys' and Girls' Daily Mail (1933-), "Peter Panda" for Happy Days (1939) and "The Zoo Boys" for Puck (1939). He also contributed to Little Folks, Toby, Cassell's Children's Annual and The Humorist. In the 50s he lived in Peacehaven, Sussex, and he died in 1962 in Bodmin, Cornwall.
References
Edit
Alan Clark, Dictionary of British Comic Artists, Writers and Editors, The British Library, 1998, p. 26
Steve Holland, L. R. Brightwell: Artist, Look and Learn, 30 June 2011
Boy's Own Paper – Doings at the Zoo – Brightwell, Visual Rants, 5 December 2011
Community content is available under
CC-BY-SA
unless otherwise noted.