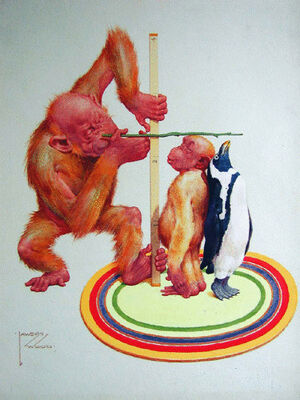 Clarence Lawson Wood was born in Highgate, London, in the fourth quarter of 1878, the son of landscape painter Lewis Pinhorn Wood and his wife Louisa. He studied at the Slade School of Fine Art, Hetherley's School of Art and Frank Calderon's School of Animal Painting. In 1896 he started working for C. Arthur Pearson as an illustrator, before going freelance in 1902, illustrating books, contributing to magazines like The Graphic, The Strand Magazine, Punch, The Illustrated London News and the Boy's Own Paper, and becoming known for his humorous style. He was a member of the London Sketch Club and a friend of Tom Browne, who was a great influence on him.
He served in the Kite Balloon Wing of Royal Flying Corps during the First World War, spotting enemy planes from a balloon, and made patriotic drawings which were later published by Dobson Molle and Co. After the war he became famous for his humorous animal drawings, published by Inter-Art and Valentine, which spawned a line of wooden toys called "Lawson Woodies". In 1934 he was given a fellowship of the Royal Zoological Society for his work in promoting animal welfare.
He was best known for his cartoon character Gran'pop, a comic ape who appeared in Laughter!, a supplement to Odhams Press' magazine Illustrated, and a series of Gran'pop annuals from 1936 to 1950. A series of animated films was planned, but was scrapped when the Second Word War broke out.
He also contributed to the Amalgamated Press weekly Playhour in 1955. His work was a particular influence on Roy Wilson. He died in Honiton, Devon, in the fourth quarter of 1957.
References
[
]
Alan Clarke, Dictionary of British Comic Artists, Writers and Editors, The British Library, 1998, p. 192
Online reference
[
]