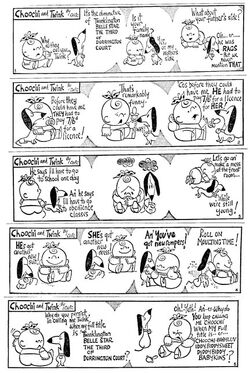 Leslie Alfred Joseph Lilley was born in Dartford, Kent, on 29 November 1924, the son of Percy W Lilley, an ambulance driver, and his wife Nellie, née West, a nurse. He served in the Navy during the Second World War, and after demobilisation worked for the Dartford Post Office and the Keith Prowse Ticket Agency, while selling pocket cartoons to weekly papers like Reveille and Weekend in his spare time.
He soon gave up cartooning and turned to writing strip cartoons for an agency run by former cartoonist Ian Scott. His first was Choochi and Twink, with artist Chic Jacob, in the Daily Express (1966-). Other strips he wrote scripts for included Jane in the Daily Mirror, Tiffany Jones in the Daily Mail, Scarth in The Sun, Robbin' Hood in the Mail on Sunday, and Jack and Jill in the Herald and Sun. He also wrote scripts for weekly comics, including "The Tin Teacher" (Buster), "Fiends and Neighbours" (Cor!!), and "Son of Sherlock" (comic unidentified), and several complete annuals for Wham! and Smash!.
He also worked in television. He and Chic Jacob wrote for the BBC's Vision On, a series for deaf children, in which they devised wordless sequences, and the ITV game show The Golden Shot. They also wrote radio scripts for comedians like Dick Emery, Roy Hudd and Arthur Askey. He published a number of books, including Laugh With the Motorist and The Idiot's Guide to Feminism.
He helped Ian Scott found the Cartoonists' Club of Great Britain, and replaced him as chairman for many years. He was involved in the founding of the Society for Strip Illustration, of which he was also chairman for a while. In later life he was a jury member for the World Cartoon Festival, and organised a Cartoon Festival in Margate.
He married Audrey Adams in 1962, and they had a son and a daughter. He died in London on 18 October 1998.
References
[
]