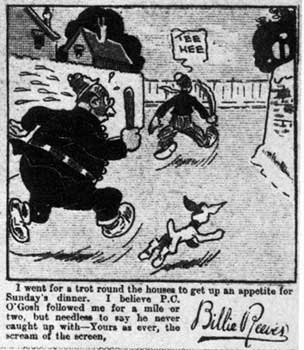 Louis Ranson Briault (pronounced "Bree-alt") was born in London on 7 March 1885 studied at the Goldsmiths Company at the City of London School and at Slade School of Art, and became a commercial artist around 1908, designing labels and other packaging for a firm in Norwich. Around the same time he started submitting cartoons to the Amalgamated Press's weekly comics, including Comic Life and Merry and Bright.
In 1909 he became a reporter for the Birmingham Post, and he served in the Army during the First World War. After leaving the Army he continued he resumed his commercial art and cartooning career, illustrating advertisements for a metal polish firm, and drawing "The Comical Capers of Billie Reeves, the Scream of the Screen" for Sparks in 1916. From 1920 he worked continuously for the AP's comics. He worked for Sunbeam, Comic Cuts in the 20s, and drew strips like "The Rollicking Rambles of Reggie and Roger" for Larks and "Old London Laughing" for Butterfly in the 30s. He also drew sports cartoons for the Birmingham Post and Sheffield Telegraph.
He was one of a group of artists based in Norwich, including Harry Banger, Don Newhouse and Roy Wilson. He introduced Wilson, then Newhouse's assistant, to AP art editor Leonard Stroud, who encouraged Wilson to become a comic artist in his own right.
During the Second World War, with paper shortages meaning fewer comics being published, he turned to writing, including a radio play, The Physchic Trip, which was broadcast on the BBC on 1 May 1944. He died on 22 December 1944.
References
[
]
Alan Clark, Dictionary of British Comic Artists, Writers and Editors, The British Library, 1998, p. 26
Online reference
[
]