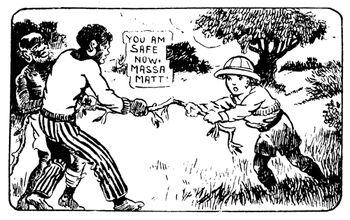 Louis James Gunnis was born in Clapham, London, in 1864. He was educated at St. Olaves's School, and at the age of 15 was apprenticed to an engraver. He later studied at Lambeth Art School and became a professional painter, exhibiting at the Royal Academy several times, as well as a commercial artist, providing black and white and colour wash drawings to magazines like The Strand. His work appeared in James Henderson & Sons' weekly comics as early as 1892.
He married in 1898, but his wife Lottie died in 1905 leaving him with three daughters to look after, so he concentrated on his commercial art work. This included work for the Amalgamated Press's comics, including:
He was good friends with Bill Wakefield, and his daughter Irene married Wakefield's son Terry in 1935. He was described as "ramrod straight, with a fierce, bristling moustache", as well as "gentlemanly with a lively sense of humour". He returned to painting in the 1930s, and was accepted back into the Royal Academy. He died in the fourth quarter of 1940, when his home in Wandsworth was hit by a German bomber.
References
[
]
Alan Clark, Dictionary of British Comic Artists, Writers and Editors, The British Library, 1998, p. 68