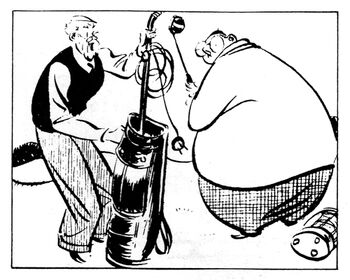 Richard John Lunt Roberts was born in Secunderabad, India, on 28 August 1894. His father, Richard Roberts, was a Welshman who worked as a storekeeper on the Indian Railway. His mother, Gertrude Annie Lunt Roberts, was born in Australia to English parents.
In 1901 the family, including a younger brother and sister, were boarding in a farmer's house in Aber, Caernarvonshire; by 1911 they had moved into their own house in Llandudno. Roberts first attended the London Sketch Club, which he would later be president of, in 1913, between then and 1964 was active as an illustrator. He served with the Royal Welsh Fusiliers during the First World War.
His work appeared in magazines, inluding Punch and The Humorist. His career as a book illustrator started in 1922 with Dugout Doggerels from Palestine by John N. More. His best known books include Jimmy (1949) and Jimmy Again (1951) by Richmal Crompton, and seven books in the "Jilly" series by Malcolm Saville between 1947 and 1957. During the Second World War he was an illustrator for the Ministry of Information. His work in comics included "Robin Hood" (1949) in Knock-Out and "Mr Pastry" (1951-58) in TV Comic.
He lived in south London, where he drew a portrait of each year's captain of the Coombe Wood Golf Club. He died in the fourth quarter of 1981 in Kingston Upon Thames
References
Edit
Alan Clark, Dictionary of British Comic Artists, Writers and Editors, The British Library, 1998, p. 145
Steve Holland, Lunt Roberts, Bear Alley, 28 January 2007, updated 24 February 2010
Alan Horne, The Dictionary of 20th Century British Book Illustrators, Antique Collector's Club, 1994, p. 372
Online reference
Edit
Community content is available under
CC-BY-SA
unless otherwise noted.