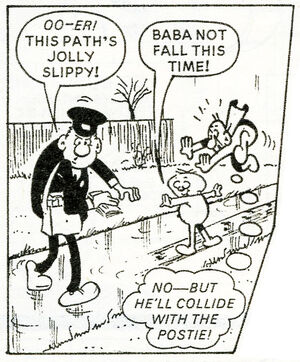 Malcolm Hendry "Mal" Judge was born in Hutchestown, Glasgow, on 30 June 1918. In his twenties he worked as a journalist for DC Thomson's newspapers and magazines. He first tried his hand at cartooning in the 1940s, having single panel gag cartoons in the Weekly News during the war, and starting a regular cartoon, "Setterday Sammy", which ran for forty years. His first contributions to Thomsons' comics was "Meddlesome Matty" in The Dandy in 1948, but he didn't work there again until 1960, when he drew "The Badd Lads" for The Beezer. He went on to create "Colonel Crackpot's Circus" (1960-), "Billy Whizz" (1964-) and "Ball Boy" (1975) for The Beano, "The Numskulls" (1962-) for The Beezer, "Hop, Skip and Jock" (1973-75) for Buzz, "Ali's Baba" (1970-77) and "Baron von Reichs-Pudding" (1974-76) for Sparky, and "Square Eyes" (1981-) for The Topper. He died in Bournemouth on 17 January 1989.
References
Edit
Alan Clark, Dictionary of British Comic Artists, Writers and Editors, The British Library, 1998, p. 87
Denis Gifford, Encyclopedia of Comic Characters, Longman, 1987
Online reference
Edit
Community content is available under
CC-BY-SA
unless otherwise noted.