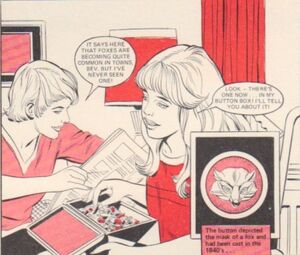 Mario Guiseppe Capaldi was born in Glasgow on 20 February 1935 and began his career as a versatile comics artist in 1959. His work appeared in nursery and licenced comics, girls' and boys' adventure comics, humour comics, and even soft porn magazines.
Strips he drew include "Typhoon Tracy" in Hurricane (1964-65), "Jimmi from Jupiter" in Lion (1965-67), "Carrie's Den" in Mayfair (1976-77), "Barry and Boing" in Buster (1980-82), and "Robo-Machines" in Eagle (1984).
For Tammy he drew "Daughter of the Regiment", "Towne in the Country" "The Sign of the Scorpion", "Gail at Windyridge", "The Button Box", "Sarah in the Shadows", "The Secret of the Skulls", "The Sea Witches", "Waifs of the Wigmaker", "All Eyes on 3E", "Daughter of the Desert", "Now You See Her", "Glenda's Glossy Pages", and "No Haven for Hayley". For Jinty he drew "Life's a Ball for Nadine", "Dracula's Daughter", "The Jinx from St. Jonah's" and "Cursed to be a Coward!". He drew numerous strips for Misty, including "Blood Orange" (1978), "Winner Loses All",  "The Cats of Carey Street", "Don't Look Twice!", "Journey into Fear", "Ghost of Christmas Future" and "The Sentinels".
In 1990 he started working for Marvel UK, where he drew Zorro (1990-92), James Bond Junior (1992), Care Bears, Barbie (1994-95) and Transformers. He then drew Rugrats for Panini (1996). He also adapted Dickens' A Christmas Carol for the Saturday Evening Post, drew "The Famous Five" for Fleetway's Enid Blyton centenary magazine, and also drew for TV Action. He died in Middlesborough in July 2004.
References
Edit
Online reference
Edit
Community content is available under
CC-BY-SA
unless otherwise noted.