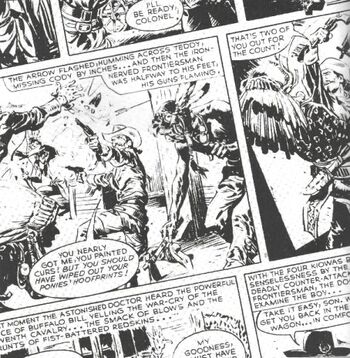 Mario Uggeri was born on 17 February 1924 in Cordogno, near Milan, and was educated at the Art School in Cremona. He was an Italian partisan during the Second World War, and was captured and sent to the Dachau concentration camp in 1943.
After the war he started working in comics and illustration for Italian publishers. He joined Roy d'Ami's studio in 1954, through which he got work for the UK markey, painting covers for Love Picture Library and drawing "Rodney Flood" for Express Weekly. He moved to London in 1957, after which he worked for the Daily Mirror and the Sunday Express, and drew "Buffalo Bill" for The Comet and "Kit Carson" for Cowboy Picture Library. He returned to Italy in 1960.
He continued to work in comics in Italy until 1984, when he retired to concentrate on painting, although he continued to do some work in illustration. He died in Merate on 8 March 2004.
References
[
]
Online reference
[
]