Jurassic World: Dominion Dominates Fandom Wikis - The Loop
Play Sound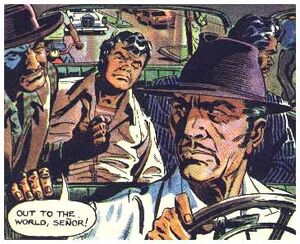 Martin H. H. Aitchison was born in Kings Norton, Worcestershire, on 21 October 1919, the son of Leslie Aitchison, chief metallurgist to the Air Ministry, and his wife Ida, née Tilsley. He was educated at Ellesmere College in Shropshire, but his academic progress was hindered by his serious deafness, which was to become profound, and he concentrated on developing his artistic talent. He went to Birmingham School of Art at the age of fifteen, and later Slade School of Art in London, where he met his future wife, Dorothy Self, and exhibited at the Royal Academy in 1939.
Excused military service during the second world war by his deafness, he remained an art student until the Dunkirk evacuations in 1940, after which he got involved in the war effort by becoming a technical illustrator at Vickers Aircraft, where he designed service manuals and produced drawings for Barnes Wallis' bouncing bomb. He married Dorothy in 1943.
After the war he became a commercial artist, working in advertising, magazines and children's books through an agency. He did some illustration work for Hulton Press' magazine Lilliput, and then found work on Hultons' comics, starting with a fill-in on "Kitty Hawk" in Girl, and "Flick and the Vanishing New Girl" for Girl Annual. He drew for the Eagle from 1952 to 1963, working on "Luck of the Legion", written by Geoffrey Bond, "Danger Unlimited", and adaptations of Conan Doyle's The Lost World and C. S. Forester's Hornblower stories. He also drew a regular weekly strip, "Arty and Crafty", for Swift.
From 1963 until he retired in 1987 he illustrated Ladybird Books, some of which were written by his wife, Dorothy. In 1998 he and Geoffrey Bond created a new comic strip, "Justin Tyme - ye Hapless Highwayman", for the Eagle Times, which ran for over five years.
He died on 22 October 2016.
External links
[
]
Online reference
[
]