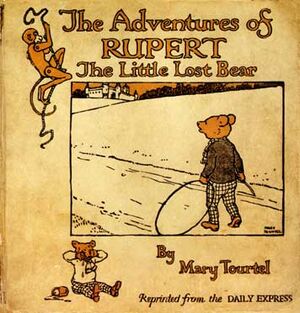 Mary Tourtel, née Caldwell (b. Canterbury, Kent, 28 January 1874; d. 15 March 1948) was the creator of the long-running comic strip Rupert Bear.
She studied at the Sidney Cooper School of Art in Kent before becoming a children's illustrator. She married journalist Herbert Tourtel, who went on to become a sub-editor at The Daily Express, c. 1896. In the late 1890s and early 1900s she illustrated several children's books, many featuring animals, and also drew for the story paper The Girl's Realm. She and her husband were keen aviators, and broke the record for a flight from Hounslow to Brussels in 1919. She produced illustrations in the "In Bobtail Land" series for the Sunday Express in 1919, followed by a daily series, "When Animals Work", featuring anthropomorphised animals practising human trades, in the Daily Express.
In 1920 the Express's editor asked her to create a comic strip as a rival to the Daily Mail's Teddy Tail and the Daily Mirror's Pip, Squeak and Wilfred, and she created the enormously popular Rupert Bear, co-writing the stories with her husband until his death in 1931. She continued the strip alone, with some writing assistance from Stanley Marshall, the paper's children's page editor, until 1935, when she retired due to failing eyesight. The strip was continued by other artists, notably Alfred Bestall, and is still published today. Tourtel died following a stroke at the age of 74.
References
Edit
Alan Clarke, Dictionary of British Comic Artists, Writers and Editors, The British Library, 1998, p. 164-165
Online reference
Edit
Community content is available under
CC-BY-SA
unless otherwise noted.