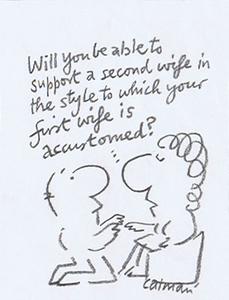 Melville Calman was born in Hackney, London on 19 May 1931, the youngest of three children of Russian Jewish immigrants who came to England about 1912. He was educated at the Borough Polytechnic Art School before studying illustration at St Martin's School of Art and Goldsmith's College. After his national service, during which he published cartoons in The Soldier, he began a career as a freelance cartoonist in 1956.
His first regular gig was for the "William Hickey" gossip column in the Daily Express, which he did from 1957 to 1963. He then started drawing his famous "little man" character in pocket cartoons for the Sunday Telegraph, later moving to The Times in 1979. The angst-ridden character, drawn in pencil, worried constantly about health, death, God, achievement, morality and women, reflected Calman's own tendency to depression.
He also worked for The Observer and The Sunday Times and magazines like Cosmopolitan and House and Garden, published about 20 books of cartoons, and wrote radio plays for the BBC. He became an art collector and dealer, and in 1989 co-founded the Cartoon Art Trust. He died of a coronary thrombosis at the Empire Cinema, Leicester Square, on 10 February 1994.
References
Edit
Simon Heneage, 'Calman, Melville (1931–1994)', Oxford Dictionary of National Biography, Oxford University Press, 2004, accessed 14 April 2013
Online reference
Edit
External links
Edit
Mel Calman, British Cartoon Archive, University of Kent
Community content is available under
CC-BY-SA
unless otherwise noted.