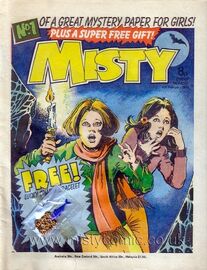 Misty was a comic published by IPC from 1978 to 1980.
The comic was conceived as a competitor to Spellbound although it did not go on sale until a month after that title had merged into Debbie.[1] Pat Mills served as associate editor,[2] and shaped it into what could broadly be described as a girl-targeted 2000 AD, replacing science ficton with supernatural horror.
The comic's title character was a supernatural hostess described by Graham Kibble-White as "an escapee from a Roman Polanski nightmare".[3]
In 1980 Misty was taken over by Tammy. In 1981 Tammy took over Jinty, and its Misty component was dropped.[4] Pat Mills has blamed this ignominious end on the comic jumping the shark and ending up with "too many stupid adventure stories with colourful visuals".[5]
In 2006 the fan-run website Mistycomic.co.uk published a 25th anniversery special,[6] titled Mistycomic.co.uk for copyright reasons.[7] A second special followed in 2009;[8] the same year Egmont published a one-off special reprinting old material.[9]
Features
[
]
Amongst the strips that ran in Misty were...
Beasts

(first appeared 1978)

The Black Widow

The Sentinels

(first appeared in 1978)

The Cult of the Cat

(first appeared 1978)

The Nine Lives of Nicola

(sequel to The Cult of the Cat)

The Four Faces of Eve

Journey into Fear

Midnight Masquerader

Moodstone

(first appeared 1978)

Moonchild

(first appeared 1978)

My Friend George

Nightmare

(first appeared 1978)

Paint it Black

(first appeared 1978)

Winner Loses All
References
[
]
External links
[
]
Official website
[
]
Online reference
[
]