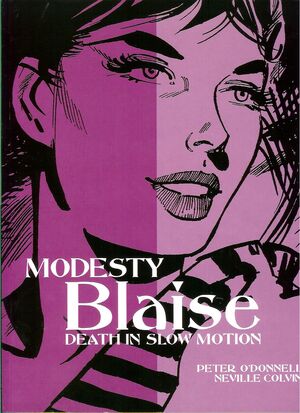 Modesty Blaise was a newspaper strip featuring a multi-talented spy, created by writer Peter O'Donnell and artist Jim Holdaway (Frank Hampson tried out for the strip, but his drawings were considered not sexy enough) in 1963, originally in the London Evening Standard, later syndicated to newspapers all over the world. After Holdaway died in 1970, the strip was drawn by Enrique Badía Romero for eight years, then briefly by John M. Burns and Patrick Wright, then by Neville Colvin until 1986, and finally by Romero again until the strip ended in 2001. Romero adapted one of O'Donnell's short stories as a graphic novel in 2002.
It was adapted into films made in 1966, 1982, and 2003 and a series of 13 novels and short story collections, beginning in 1965.
In 1945, a nameless girl escaped from a refugee camp in Greece. She was befriended by a Hungarian Jewish refugee called Lob, who named her Modesty (she added the Blaise, after Merlin's tutor from the Arthurian legends) herself. Lob died when she was 12. In 1953 she took control of a criminal gang in Tangier and expanded it internationally. During this time she met Willie Garvin, who became her right hand man. There was no sexual element to their relationship, but Modesty's many lovers were jealous of his closeness to her. She obtained British nationality by marrying and divorcing an Englishman, and when she had made enough money she and Garvin retired to England, where they were recruited by the British Secret Service. This is where the strip started, and led to many adventures fighting eccentric villains in exotic locales.
Between 1984 and 1988, Titan Books published eight volumes of reprints of strips featuring art by Holdaway and Romero, covering the period 1963 to 1974.
Beginning in March 2004, Titan launched a new series of reprint volumes. These new versions use larger images and reportedly come from better source material than the earlier editions. As well as an introduction to each story by Peter O'Donnell for books 1 to 16, and by Lawrence Blackmore for books 17 onwards, most books include articles about the series. So far, the new Titan series has reprinted the full run of the Holdaway years, the full run of Romero's first tenure, the short spells of John Burns and Pat Wright, and the full run of Neville Colvin.
References
[
]
Online reference
[
]