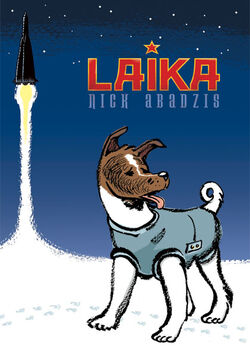 Nick Abadzis (born 1965) is a British cartoonist. He currently lives in New York, having moved there from London in 2010.
He is of mixed English and Greek parentage, and grew up in Sweden, England Switzerland. He entered comics in 1987, working as an editor at Marvel UK. The following year he went freelance, publishing his "Hugo Tate" and "Mr Pleebus" strips in Deadline from 1988 to 1994. Hugo Tate: O, America was published as a graphic novel by Atomeka Press in 1993. In 1989-90 he drew cartoons for the Sunday Correspondent. He wrote and coloured the horror/fantasy miniseries Children of the Voyager, drawn by Paul Johnson, for Marvel UK in 1993, and wrote the romantic fantasy miniseries Millennium Fever, drawn by Duncan Fegredo, for DC/Vertigo in the USA in 1995. He wrote the supernatural detective series "Darkness Visible", drawn by John Ridgway, for 2000 AD in 1996.
He has written and illustrated a a number of children's books, including a series based on his Mr Pleebus character, has worked as a development and consultant editor on a range of children's magazines for various British publishers, and has written for the children's TV show Bob the Builder.
His graphic novel, Laika, about the eponymous dog, the first living creature from Earth to enter orbit, was published by First Second Books in 2007. He created "Cora's Breakfast" for The DFC, which also appeared in the Guardian newspaper, and his graphic novella The Trial of the Sober Dog was serialised in The Times in 2008.
External links
Edit
Online reference
Edit
Community content is available under
CC-BY-SA
unless otherwise noted.