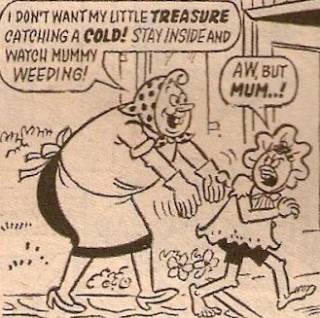 Norman Arthur Mansbridge was born in Wanstead, Essex, on 22 July 1911, the son of children's author, illustrator and comics artist Arthur Mansbridge. He was educated at Forest School and Snaresbrook, Essex, and Heatherley's School of Art in London, and was apprenticed to a commercial art studio, working in advertising, before going freelance. In 1937 he submitted his first cartoon to Punch. In 1939 he illustrated the satirical book Adolf in Blunderland.
During the Second World War he served in the Auxiliary Fire Service and was a radio operator in the Merchant Navy with a roving commission as a war artist, before returning to work as a cartoonist in papers and magazines like Lilliput, The News Chronicle, The Sunday Times, The Daily Sketch and The Birmingham Post, while contributing regularly to Punch. He wrote and illustrated two books, The Modern Mariner (1946) and The Pale Artist (1947), and exhibited his paintings at the Royal Academy.
In the late 1960s he started drawing humour comics for IPC, including:
He died in Uttlesford, Essex, on 6 March 1993.
References
Edit
Alan Clark, Dictionary of British Comic Artists, Writers and Editors, The British Library, 1998, p. 105
Denis Gifford, Encyclopedia of Comic Characters, Longman, 1987, pp. 85, 132, 149, 217, 230
Adolf in Blunderland, Alice in the Internet, 21 May 2011
Online reference
Edit
Community content is available under
CC-BY-SA
unless otherwise noted.