Jurassic World: Dominion Dominates Fandom Wikis - The Loop
Play Sound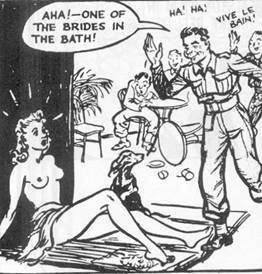 William Norman Pett was born in King's Norton, Worcestershire, on 12 April 1891. His father, John Ernest Pett, was a gold cutter. By 1911 the family was living in Birmingham and Norman was an art student. He later studied at Percy Bradshaw's Press Art School in Forest Hill, London, and became a teacher at Mosely Road Junior Art School in Birmingham, where one of his pupils was Peter Maddocks, and the Birmingham Central School of Art.
He is best known for his daily strip, Jane, which ran from 1932 in the Daily Mirror. It started out as Jane's Journal, or the Diary of Bright Young Thing, and focused on fashion, with the main character modelled on Pett's wife Mary Wade. From 1938 Don Freeman was brought in as writer. From 1940 Jane was modelled on Christabel Jane Drury, a former life model, and the strip became racier. During the Second World War Jane's tendency to accidentally lose her clothes made her a morale-booster, and she even appeared fully nude the day after D-Day in 1944. A spin-off comic, Jane's Journal, was published in 1946. In 1948 Pett's assistant Mike Hubbard took over drawing Jane, while Pett created a similar strip, Susie, for The Sunday Dispatch.
Pett also worked for the weekly comics, drawing an adaptation of the Errol Flynn film The New Adventures of Don Juan (1948), "June" (1949) for Comet, "Cardboard Cavalier" (1949) for Knock-Out, and "Penny Wise" (1951) for Girl. He died on 16 February 1960 in Cuckfield, Sussex.
References
[
]
Alan Clark, Dictionary of British Comic Artists, Writers and Editors, The British Library, 1998, p. 135
Gordon Phillips, 'Pett, (William) Norman (1891–1960)', Oxford Dictionary of National Biography, Oxford University Press, 2004, accessed 9 June 2013
Online reference
[
]