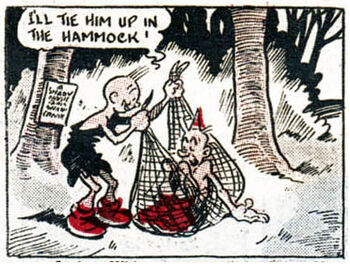 Norman Yendell Ward was born in Page Bank, County Durham, on 30 September 1906, the son of Henry Ward, a colliery policeman who was killed in action during the First World War, and his wife Alice. Norman did well at school and won a scholarship, but the family's finances were too precarious to take it up, and he instead went to work as a telegraph boy, while taking evening classes. He moved to Australia from 1925 and 1932, and tried various career avenues, including a correspondence course in commercial art, and soon got work with publishers like George Newnes, C. Arthur Pearson and the Amalgamated Press.
His first cartoon was published in Newnes' Tit-Bits, and his first regular slot was in Detective Weekly c. 1937. He illustrated story paper serials like "Arthur Prince and Jim" (1937) for Pilot and "Wee Georgie Wood" (1937) for Buzzer, and in 1938 he drew for Pearson's seasonal comics, The Christmas Holiday Comic ("Unlucky Georgie"), The Seaside Comic ("Dick's Quick Tricks"), The Summer Comic and Sunny Sands ("Ice Cream for All").
From 1939 he drew for the AP's comics, including "Stonehenge Kit, the Ancient Brit" (1939-50) and "Sandy and Muddy" (1939-43) for Knock-Out, and "Old Mother Riley" (1940) and "Joe E. Brown" (1940) for Film Fun. During the Second World War He served in the Royal Artillery in a clerical role which allowed him to continue drawing for Film Fun. After Bill Wakefield died in 1942, Ward took over many of his strips, including "Laurel and Hardy", "George Formby" and "Abbott and Costello". He also drew "Tough But Tender Tex" (1944) for Knock-Out during the war years. He died in 1959, aged 54, leaving a widow and six children.
References
Edit
Alan Clarke, Dictionary of British Comic Artists, Writers and Editors, The British Library, 1998, p. 177
Denis Gifford, Encyclopedia of Comic Characters, Longman, 1987
Online reference
Edit
Community content is available under
CC-BY-SA
unless otherwise noted.