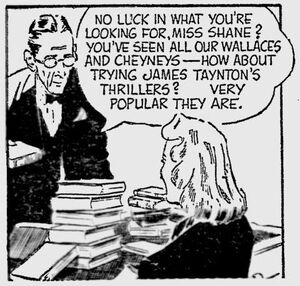 Oliver William Passingham was born in Romford, Essex, on 26 January 1925. He studied at Hornsey School of Art in London, and served in the Royal Navy Fleet Air Arm from 1943 to 1947, after which he joined the Rank Organisation's Animated Film Cartoon Unit for two years.
In 1950 he joined the studio of writer Conrad Frost, which produced syndicated strips for newspapers owned by Lord Kelmsley. Working from home, he drew detective strips Leslie Shane (c. 1953-55) and Jane Fortune, western Rick Martin (under the pseudonym John Diamond), and glamour strips Sally Marsh and Zoe Fair, the latter for Weekend Magazine. His Leslie Shane strips were reprinted in the Amalgamated Press' Super Detective Library from 1953, and Passingham also drew AP's science fiction hero Rick Random, and contributed to their girls' titles School Friend and Girls' Crystal among others.
His newspaper strip work ended in 1959 with the sale of Kelmsley's newspaper empire, and Passingham went freelance, working regularly for DC Thomson's girls titles, including Mandy, Bunty, Judy, Romeo and Diana. In 1967 he drew an adaptation of the film Tobruk for the Lion Summer Spectacular. He spent most of the 1970s on the French Riveria and the 80s in Australia and Monte Carlo, continuing to freelance for British comics. He returned to England in 1990, settling in Chichester, Sussex. He retired from comics in 1993, to concentrate on his watercolours. He died in Chichester in December 2003.
References
Edit
Online reference
Edit
Community content is available under
CC-BY-SA
unless otherwise noted.