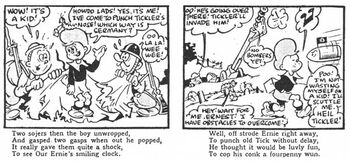 Our Ernie, "Mrs Entwhistle's Little Lad", was a character created for Knock-Out by C. E. Holt in 1939. The strip was set in Wigan and inspired by Albert Ramsbottom, the naughty boy of Stanley Holloway's monologues. After getting up to mischief, Ernie would return home with the catchphrase "What's for tea, Ma?", to which his Pa would reply "Daft, I call it!" The picture strip was accompanied by narration in rhyme. It got weirder once Hugh McNeill took it over in issue 12, with Charlie the Caterpillar accompanying Ernie on his adventures. Other artists to draw the strip include Eric Bradbury and Denis Gifford, with scripts by Nobby Clark.
Community content is available under
CC-BY-SA
unless otherwise noted.