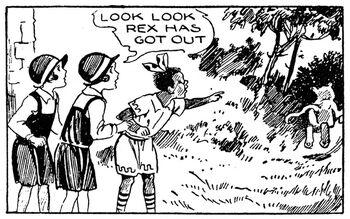 Philip John Hayward was born in the second quarter of 1879 in Forest Hill, Kent, the son of William R. Haywood, a master tailor, and his wife Susanna. By 1901 he was working as a lithographic designer, living with his parents in Croydon. In the 1911 census he was a painter, visiting at the home of Alfred Andrew, a retired barrister.
In 1912 he contributed illustrations to Cheer Boys Cheer, and in 1916-19 he was a regular illustrator for the Boy's Friend. In the 1920s and '30s he worked for the Amalgamated Press' nursery comics. Strips he drew included "Nippi the Jap" (1924-38) for Bubbles, "Motherless Mary" (1926-40) for Sunbeam, "Sailor Boy Joe" (1929) for Playtime, and "Happy Ranch" (1939) for Playbox.
He died in the first quarter of 1949 in Saffron Waldon, Essex.
References
[
]
Alan Clark, Dictionary of British Comic Artists, Writers and Editors, The British Library, 1998, pp. 75-76
Denis Gifford, Encyclopedia of Comic Characters, Longman, 1987, pp. 147, 153