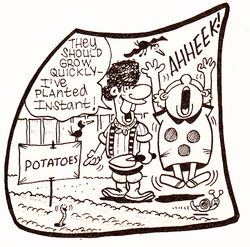 "Paddywack" was a strip that ran in Cheeky Weekly (from July 1978 to January 1980) and later Whoopee!. It was drawn by Jack Clayton.
The main character was an idiot who constantly made mistakes, much to the annoyance of his long-suffering Ma. Paddywack was, presumably, Irish, making this a very much of-its-time strip; it is not the only place in which Cheeky published Irishman jokes, as the Joke-Box Jury section also printed them from time to time.[1]
Many of the "Paddywack" strips were based on jokes sent in by readers. Paddywack was originally portrayed as a fictional character drawn by Cheeky's friend Doodle Doug, but this idea was dropped and Paddywack was seen interacting with Cheeky.[2]
References
[
]