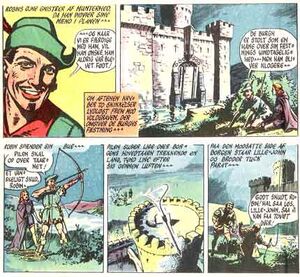 Maurice Patrick Nicolle was born in Hampstead, London, on 15 November 1907. His family moved to Birmingham when he was a child. His father served in the First World War, and the family returned to London in 1921. Nicolle excelled at drawing and rugby at school.
After leaving school he worked a variety of jobs, but his temper did him no favours. At the age of nineteen he responded to an ad for an assistant artist-contributor for a woodworking magazine, and stayed there for eight years, while also doing freelance illustration work for furniture catalogues, Odhams Press' children's educational magazine Modern World, and the Boy's Own Paper, among other publications. His older brother Jack was also a freelance illustrator.
Nicolle served with the Royal Engineers during the Second World War. He returned to illustration on demobilisation, but paper shortages reduced his opportunities. He drew comic strips for small independent publishers, including, "Astra the Mystery Air Ace", for a one-off title called Zoom, published by the Children's Press of Glasgow, and "The Mounties Fight Through" for 'Laugh Fun Book, published by Philmar, both in 1947.
He also illustrated a volume of Robin Hood adventures for Thames Publishing Co. in 1949. On the basis of this, Amalgamated Press editor Leonard Matthews recruited him to draw adventure strips, including Robin Hood stories, westerns and other historical swashbucklers, for his comics, including Knock-Out, The Comet and The Sun. He went on to draw for Lion, TV Fun and Buster, as well as providing illustrations for Look and Learn. He retired in 1982 when Look and Learn closed.
He lived in north London until late in life, when he moved to Loughborough, Leicestershire to stay with his son David and his family. He died on 30 October 1995.
References
[
]
Norman Wright and David Ashford, Masters of Fun and Thrills, Norman Wright (pub.), 2008, pp. 116-130
Online reference
[
]