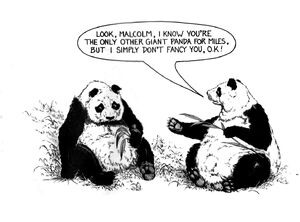 Patrick Wright, (son of David Wright, the creator of Carol Day) drew for Battle Picture Weekly (including secret agent strip "Day of the Eagle", "Sea Wolf" and "Hellman of Hammer Force"), 2000 AD ("Invasion", "Tharg's Future Shocks"), The Crunch ("Hitler Lives"), the Eagle ("The Collector") and Commando in the 1970s and early 80s. In 1979 he took over drawing Modesty Blaise from John M. Burns, and drew it for ten months, before being replaced by Neville Colvin. Since then he has created a series of books of mordantly funny single-panel cartoons, including Walkies (1983), A Tale of Two Mothers-in-Law (1983), Affairs of the Heart (1985), Worthless Pursuits (1992), 101 Uses For a John Major (with Peter Richardson, 1995), 101 Further Uses For a John Major (1995) and Not Inconsiderable: Being the Life and Times of John Major (1996). He has also drawn cartoons for Private Eye.
Community content is available under
CC-BY-SA
unless otherwise noted.