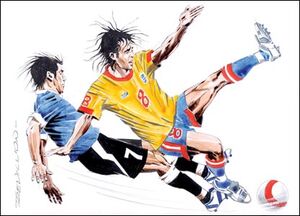 Paul Trevillion (born Tottenham, London, 11 March 1934) started out sketching Tottenham Hotspur players from the terraces in the early 1950s, leading to some of his drawings being published in Lilywhite magazine when he was 18. He soon started drawing comics professionally, working on "Can You Catch a Crook?" and "UFO Agent" for the Eagle and "Roy of the Rovers" for Tiger, as well as strips for TV21. He drew the football strip Hey Ref! in the People, which became "You are the Ref" in Shoot! in the 1970s. He has drawn a revived "You are the Ref" for the Observer since 2006. He illustrated the "Gary Player Golf Class" strip which was syndicated to more than 300 papers worldwide. He has also drawn for the Daily Mirror, the Daily Express and The Sun, and illustrated more than 200 books. Disney animator Milt Neil called him the "master of movement", saying "It would take a Disney artist 20 pages to produce the movement that Paul captures in one drawing."
Outside of illustration he has performed as a stand-up comedian and made records. In the early 1970s he orchestrated a PR campaign for Leeds United, inventing the numbered tags on their socks that they used to throw into the crowd at the end of matches.
External links
Edit
References
Edit
Online reference
Edit
Community content is available under
CC-BY-SA
unless otherwise noted.