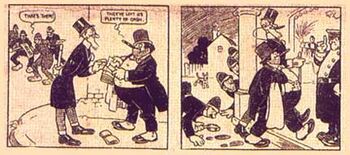 Percival James Cocking was born in London on 10 March 1881. After attending art school, he started contributing the Amalgamated Press' weekly comics, beginning with spot cartoons. His first regular strip was "Sunbeam the Innocent" in Illustrated Chips in 1903. In Comic Cuts he drew "Mulberry Flats" (1906-), a single panel packed with detail and activity, "Tom the Ticket of Leave Man" (1910-) (which became "Jolly Tom the Menagerie Man" in 1907) and "Jackie and Sammy the Terrible Twins" (1917-), a knock-off the American strip The Katzenjammer Kids. In 1909 he took over Illustrated Chips' "Weary Willie and Tired Tim" from Tom Browne, and continued drawing it until 1953 when the title folded. He also worked for Funny Wonder (1916), Jester (1920), Lot-O'-Fun (1921), Butterfly (1926), The Joker (1929), Sparkler (1934) and Crackers (1939). In the 50s he drew for Gerald G. Swan and Martin & Reid titles under the pseudonym Jack Daw. He died in Camberwell, London, on 17 January 1964, aged 82.
References
Edit
Alan Clark, Dictionary of British Comic Artists, Writers and Editors, The British Library, 1998, pp. 40-41
Online reference
Edit
Community content is available under
CC-BY-SA
unless otherwise noted.