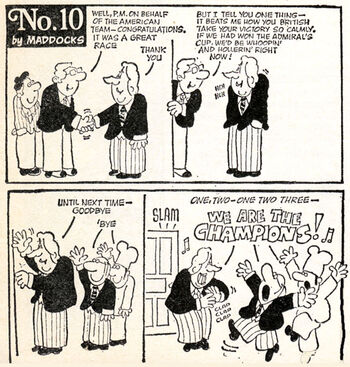 Peter D. Maddocks was born in Birmingham on 1 April 1928, the son of a bus driver. At the age of eleven he won a scholarship to Moseley School of Art in Birmingham, where he was taught by Norman Pett, but left at 15 to join the Merchant Navy. After leaving in 1949 that he set up an advertising agency, designing cinema posters, and did lettering for the Amalgamated Press' comics, including on Kit Carson stories.
He did some work in animation before joining the Daily Sketch in 1953, drawing a daily cartoon until 1954. The following year he moved to the Daily Express, where he created the daily strip Four D. Jones (1955-65), about a time-travelling cowboy. Other strips he drew include Horatio Cringe for the Glasgow Evening Citizen, "The Bouncers" (1959) for Swift, No. 10 (1970-1991) for the Sunday Express, A Leg at Each Corner (1970-73) for the Manchester Evening News and the Sunday Telegraph, Cop Shop for the Daily Record, and Useless Eustace, taking over from Jack Greenall, in the Daily Mirror from 1975
He drew pocket and sports cartoons for the London Evening Standard (1966-70), and a regular "Slightly Maddocks" cartoon for the London Evening News (1974-77). Other publications he contributed to included the Daily Star, the Manchester Evening News, the Mail on Sunday, Private Eye, the Daily Telegraph, Mayfair and Woman's Own.
He was cartoon editor for Express Newspapers in 1965-66, and special features editor for King Magazine in 1968-71. He was a founding member, along with Carl Giles and Osbert Lancaster, of the British Cartoonists' Association in 1966, was its first Honorary Secretary, and is currently its joint president. He set up the London School of Cartooning, running correspondence courses, in 1977, and ran it until 1987, briefly reviving at as the The Cartoon School in 1990. He also produced animated commercials for Halas & Bachelor and children's cartoons for the BBC, including The Family Ness, Jimbo and the Jet Set and Penny Crayon.
In the 1980s he shared a studio with Peter O'Donnell. He retired in 2000 and moved to southern Spain, where he paints in acrylics.
References
[
]
Alan Clarke, Dictionary of British Comic Artists, Writers and Editors, The British Library, 1998, p. 104
Online reference
[
]